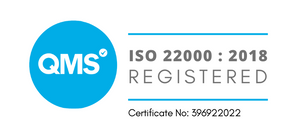 We are now ISO 22000:2018 registered!
We are proud to announce that we are now ISO 22000:2018 registered! ISO is a prestigious internationally recognised standard. It ensures our products and services exceed the quality standards through an effective quality management system.
ISO is such an important milestone for us as it demonstrates our rigorous quality standards and commitment to providing the best products and services we possibly can.
It was our decision to undergo the ISO 22000:2018 standard. Our main key value is to be as transparent with our clients as possible which we believe holding this certificate reinforces.
To become ISO 22000:2018 compliant, we underwent an in-depth evaluation process. It included assessments of our quality management system, a review of our management system documents, and an audit of our processes from start to finish.
We are thrilled to say there were no non-conformances identified and we received the certificate after only one audit visit!
The ISO 22000:2018 registration is just another step to demonstrate our values, goals and promise to our clients. This is a 10-year commitment to the registration process. To ensure consistency, annual visits, inspections and audits are required. This also pushes us to continuously challenge ourselves to improve the quality management system we currently have in place.
---
1 comment