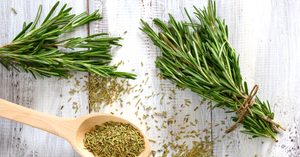 Rosemary - Ingredient Spotlight
R O S E M A R Y
Scientific Name: Salvia rosmarinus
Alternative Name: Gulmehndi
Rosemary is a fragrant evergreen herb that belongs to the mint family "Lamiaceae". The herb was originally present in the Mediterranean and now, it's mostly used in western countries such as Italy and France.
In addition, rosemary has different uses including a culinary condiment, perfumes and other health purposes. It is a very fragrant herb, usually used in dried form to season grilled meat and fish.
Due to its rich content of antioxidant, anti-microbial, and anti-inflammatory compounds, rosemary has been used for treating various illnesses for years.
Rosemary is especially beneficial to memory enhancement; a study published in Psychogeriatrics, found that the rosemary oil aromatherapy properties can prevent and slow Alzheimer's disease. Furthermore, new research found that the plant contains 1, 8-cineole which is known for memory boosting, as well as overall cognitive health and mood.
It's for these reasons that we include the herb in three of our products:
Other Amazing Benefits of Rosemary:
Helps to improve blood circulation because of its antioxidant and anti-inflammatory compounds
Improves digestion and reduces the risk of a heart attack
An effective skin problem treatment such as acne, eczema, etc
It increases the absorption of glucose in cells and reduces the blood sugar level
Aids in reducing stress levels
Rosemary oil helps with hair growth
It reduces the risk of AREDs disease and improves eye health
Vitamins & Minerals
The herb is rich in and contains the following nutrients:
Vitamin A: 3128 IU
Vitamin C: 61 mg
Vitamin B6: 1.7 mg
Calcium: 1.3 g
Magnesium: 220mg
Iron: 29 mg
Fun Facts
In the 16th century, people used to use the plant to disinfect their rooms
In olden times, people used to distribute rosemary among guests at weddings!
---