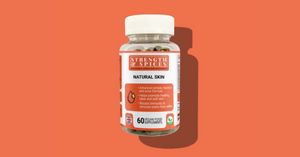 New Product: Natural Skin
We're very glad to announce the launch of our Natural Skin product!
Although we are launching this product now, it's actually been a significant portion of our Psoriasis Relief product!  The secret behind the power of the Psoriasis product is that the composition includes a mixture of our number one Anti-Inflammatory product and our brand 'new' Natural Skin supplement.
To maintain our exceptionally high standards of efficiency, the formula has gone through thorough testing and quality assurance over the past few years. Pleased to announce that the product is now available for sale in the UK & Cyprus.
So, what makes this product so special?
Formula
The Natural Skin supplement is a simple (in comparison with many of our other products!) six ingredient mixture. However, don't be fooled by its simplicity!
The six ingredients were each chosen for a specific reason and are the following:
Black Cumin Seeds, Chia Seeds, Flaxseed, Sunflower Seeds, Moringa Oleifera, Nettle Root
Why these Ingredients?
Black Cumin Seeds -

moisture-retaining/antioxidant;

keeps skin elastic & fights free radicals that cause wrinkles and fine lines (vit E), tames redness, soothes irritation + excellent anti-inflammatory properties

Chia Seeds -

omega-3/antioxidants helps reverse UV skin damage. Stimulates collagen production to aid cell repair

Flaxseed -

lignans help skin tightening & prevents sagging

The fatty acids keep skin nourished, hydrated, & moisturised

Sunflower Seeds -

essential fatty acids (linoleic, oleic, palmitic acid) aid in collagen/elastin formation for smooth, bright skin

Moringa Oleifera -

softens dry skin/maintains moisture. Especially good for rough, dry skin conditions eg dermatitis, eczema & psoriasis

Nettle Root -

anti-inflammatory to calm, soothe & reduce redness
Natural Skin Testimonials
Here are just two reviews from long-term clients that had the opportunity to test the product before the official launch.      
If you have any questions about the product or anything else, feel free to get in touch with us.
---