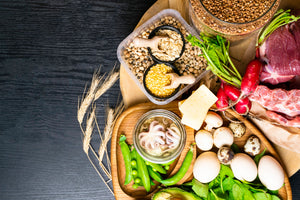 Zinc – Nutrient Spotlight
𝗪𝐡𝐚𝐭?🤔
Zinc is an essential mineral and is a multi tasker with benefits. Its main vital role is to strengthen the immune system. Zinc is required for our immune cells to form properly and function. Without zinc, our immune activity slows down making us more susceptible to viruses and bacteria.
Our bodies do not produce zinc so I cannot emphasize the importance of eating zinc-high foods and/or taking a supplement high in zinc.
The RDA (recommended daily amount) is 11mg for men, 8mg for women. Up to 40mg is considered safe.
𝐀𝐥𝐬𝐨 I𝐦𝐩𝐨𝐫𝐭𝐚𝐧𝐭 F𝐨𝐫:
➕ wound healing ➕ healthy lung function ➕ bone formation ➕ prostate health ➕ sexual function
𝐃𝐢𝐝 𝐲𝐨𝐮 𝐤𝐧𝐨𝐰? ❓
Seven studies were done and found that just 80-92mg of zinc per day reduced the length of the common cold by up to 33%?
Also, did you know that zinc can be absorbed through the skin?
𝐃𝐞𝐟𝐢𝐜𝐢𝐞𝐧𝐜𝐲=😷
Diarrhea, impaired immune function, loss of taste/appetite, hair loss, acne, white spots on fingernails, delayed growth, insomnia, lethargy, low libido/impotence, altered mood
𝐂𝐚𝐮𝐬𝐞?❔
From not eating enough foods containing zinc or from not taking a zinc-high supplement. People who are vegetarian or vegan, and are pregnant and/or nursing are at a greater risk of deficiency.
𝐅𝐨𝐨𝐝 𝐒𝐨𝐮𝐫𝐜𝐞𝐬:
Meats - shellfish, red meat, poultry, fish
𝐋𝐞𝐠𝐮𝐦𝐞𝐬 - lentils, chickpeas, black beans, kidney beans
Whole 𝐆𝐫𝐚𝐢𝐧s
𝐍𝐮𝐭𝐬 & S𝐞𝐞𝐝𝐬
Vegetables - mushrooms, kale, peas, asparagus, beet greens
Now that we are in winter, we are all after something to boost our immune system. Make sure that you are eating enough foods that are high in zinc daily. Zinc is so important that it is actually present in every cell in our bodies.
If you are in need of a boost to your immune system, or require a multi-vitamin, have a look at our Immune System Booster. It contains just 3 pure ingredients – Turmeric, Moringa, and Maca.
---