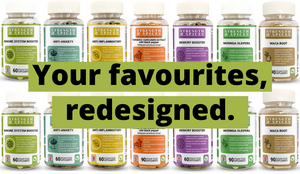 Strength & Spices 2.0
After many months of working tirelessly, we are so please to finally announce the changes we have made. These changes include NEW packaging, NEW products, and a NEW country.
So, what's changed?
Packaging
Our packaging has had a much needed upgrade. We have been so blessed to be in such high demand from day one. However, this has meant that certain decisions were made rather quickly. This includes our packaging. As much as we loved the initial jars and labels, we knew it needed an upgrade.
The jars are similar material, However, better show what's inside the jar. Plus, the screw lid is child-safety proof, and with the tamper closures on the inside, it reduces the need for plastic.
The labels have been made more eye-catching without losing the identity and general design.
Product
Our Psoriasis Relief product has finally officially hit the shelves!
After almost two years of trials, we are extremely pleased with the formula. Not claiming a cure in any shape or form. However, the product helps to relieve the itchiness, redness, and lower inflammation.
Explainer videos, client testimonials, and more to come very soon!
Country
As many of you guessed, we have expanded into Germany! Yes, our products are now available on Amazon.DE.
We have started with the four main products -  -. All listings and packaging are in German too.
My dad and I hope you are all happy with the changes we have made. If you have any questions, please don't hesitate to get in touch.
We have so much more to give including new countries and locations, and five more products to come.
With much love, take care.
---