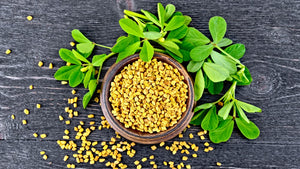 Fenugreek - Ingredient Spotlight
F E N U G R E E K
Scientific Name: Trigonella foenum-graecum
Alternative Names: Greek hay, Greek clover, bird's foot, fenugrec, hu lu ba, trigonella and bockshornklee
We use this ingredient in one of our products – the Memory Booster.⁣
Fenugreek is a unique herb and a powerful medicinal plant that is quite similar to clover. It's been used in alternative medicine for a very long time.
The plant is native to India and North Africa, but it is grown and consumed around the globe. The seeds are used in cooking, and in medicine.
It's main benefit and use is for people with diabetes as it slows the absorption of sugars in the stomach and stimulates insulin. This is because it contains an amino acid responsible for the production of insulin.
Fenugreek is further used in manufacturing. The extract is used in the production of soaps and cosmetics.
Other Amazing Benefits of Fenugreek:
Can be used to treat menstrual cramps pain

It helps to boost sexual libido and sexual problems that prevent satisfaction during sex

Helps with appetite control – numerous studies show a reduction in fat intake and appetite.

There is some evidence that indicates fenugreek can lower cholesterol levels

Has some minor inflammation benefits
Vitamins & Minerals
Just one tablespoon (around 11 grams) of fenugreek contains:
Fibre: 3 grams
Protein: 3 grams
Iron: 20% of the DV (daily value)
Magnesium: 5% of the DV 
Manganese: 7% of the DV
FUN FACT:
Fenugreek contains the aromatic compound 'sotolon'. It can cause perspiration and urine to smell like maple syrup after prolonged use.
---