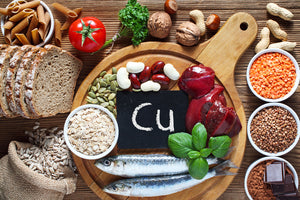 Copper - Nutrient Spotlight
C O P P E R
𝗪𝐡𝐚𝐭?🤔
Copper is an essential nutrient which our body needs in a small amount to maintain good health. Copper plays an important role in the formation of red blood cells, bone cells, enzymes, and connective tissues.
The nutrient also helps to maintain the immune system, cholesterol, and nerve cells. It is best for pregnant ladies for the growth and development of their child.
The human body cannot produce Copper naturally, so it is vital that we get the recommended amount from our diet. Our body needs only a small amount. The RDA for adults is 900 mcg. But for pregnant women, their RDA is slightly higher at 1-1.3 mg.
𝐀𝐥𝐬𝐨 I𝐦𝐩𝐨𝐫𝐭𝐚𝐧𝐭 F𝐨𝐫:
➕Due to its antioxidant properties, copper can destroy free radicals. Free radicals are the harmful chemicals that destroy cells and cause diseases such as cancer
➕helps to improve cardiovascular health
➕acts as an anti-aging agent. It helps in the renewal of damaged connective tissue and collagen. Collagen is important to hold our bones together and in place. A collagen deficiency can cause problems with joints and degradation of connective tissue
➕it protects bone density. A lack of copper can cause osteopenia, osteoporosis, and arthritis
➕helps to boost the immune system. Copper deficiency kills white blood cells that take part in immune-boosting. Thus maintaining correct copper levels is important for a strong immune system and a general healthy life
𝐃𝐢𝐝 𝐲𝐨𝐮 𝐤𝐧𝐨𝐰? ❓
Taking an extra dose of the nutrient in diets can cause copper toxicity. Levels greater than 140 mcg/dl in the blood can lead to toxicity. In turn, this leads to many mental health issues including anxiety, depression, and mood swings.
𝐃𝐞𝐟𝐢𝐜𝐢𝐞𝐧𝐜𝐲=😷
A deficiency is an uncommon condition. It can happen when people take too much zinc. This is because zinc and copper compete over the absorption into our bodies.
There are some common symptoms of a deficiency that includes:
Having pale skin

Muscles pain

Premature grey hair

Weakness and tiredness

Weak bones

Poor growth

Fatigue

Week immune system

Redness on skin
𝐂𝐚𝐮𝐬𝐞?❔
It can be due to taking too much zinc and vitamin C. Another cause is gastrointestinal surgery.
𝐅𝐨𝐨𝐝 𝐒𝐨𝐮𝐫𝐜𝐞𝐬:
Nuts

Spirulina

Lobster

Liver

Oysters

Mushrooms

Spinach

Swiss chard

Dark chocolate
---